House Rules
Please feel at home and treat the furniture and decorations with due care.
Please help yourself to all the food (pasta, cookies, tea, coffee, olive oil, etc.) and wine that's in the kitchen or fridge. When you leave, please leave roughly the same amount of food for the next guests. They'll appreciate it.  
See: Shopping
Please clean the kitchen after use and dispose of the garbage according to the "Guide to sorted refuse collection" (see below). Please put your garbage in a plastic bag, tie a knot, and put it in the garbage cart that is located at the iron entrance gate

only from 07:30 - 08:30 every morning

(Monday-Saturday except holidays). If you miss these times please take your refuse to the permanent urban waste bins (see sketch below). When you depart, please leave any residual waste in the apartment; do not leave it at the entrance gate.
Please be considerate of the neighbors and do not play loud music and keep TV volume down
You are not allowed to smoke on the premises indoors but may smoke on the terrace if the doors are closed
Pets are not allowed unless specific permission is granted.
House Manual
Guide to sorted refuse collection
Guide to sorted refuse collection
guida-rd-venezia-giudecca-en-2018-11.pdf
Adobe Acrobat Document
170.0 KB
Permanent Urban Refuse Bins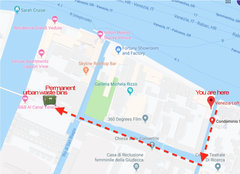 The bins are a 10 minute walk from the apartment. They are located behind the Venice Hilton Molino Stucky Hotel.
See also the interactive map below.
Thank you!